The first thing on my to-do list at Betterment? Create a customer journey map — one that product managers could use to make better product decisions. When I came aboard, improving the customer journey had been identified as a priority, but there wasn't much direction beyond that. There were various milestones in our product — sign up, deposits, feature adoption — that correlated to positive business outcomes, and each, of course, had its own set of data telling us what was working and what wasn't. Looking at the customer journey only through the lens of those milestones, though, was limiting; we gravitated towards optimizing those specific moments rather than building meaningful experiences into and out of them. We wanted to see more lift in our business outcomes and user feedback than we were getting.
If you Google "customer journey," you'll get pages upon pages of step-by-step guides. I know this because that's where I decided to start. I had never really created a customer journey before, and I wanted to get the lay of the land. What I was seeing, though, looked like a lot of work: large, table-based templates that demonstrated an impressive command of the shape library in PowerPoint. Not that I wasn't up to the task (I love a block arrow as much as any PowerPoint-savvy product manager!), I just knew that something with that level of detail would go unused. My goal wasn't to tell my team of product managers what to build — my goal was to show them how to think in a more customer-centric way so that they'd make more customer-centric decisions on their own.
Most customer journey guidance will tell you to start with a persona: a brief description of a target user, usually accompanied by a heavily posed stock photograph of what the person might look like. The journey is broken down into stages (usually around five, but sometimes closer to ten — ten!) that start with "awareness" and end with something like "loyalty." Touchpoints are identified at each stage; these are interactions your users have with your offering, on- and off-product. There's typically a section that maps the emotions your target user may be feeling as those interactions occur. Many templates will keep going from there, with stages further broken down into opportunities, risks, and more.
Like I said, it's a lot.
Again, my goal was to unlock independent, customer-centric thinking on my team, so I discarded elements that felt overly prescriptive. I optimized for memorability over detail. What I came up with was a framework that included just three components: phases, user outcomes, and KPIs. And, almost a year later, we're still using it as a reference in our decision-making about what to build and why.
Here's what it looks like.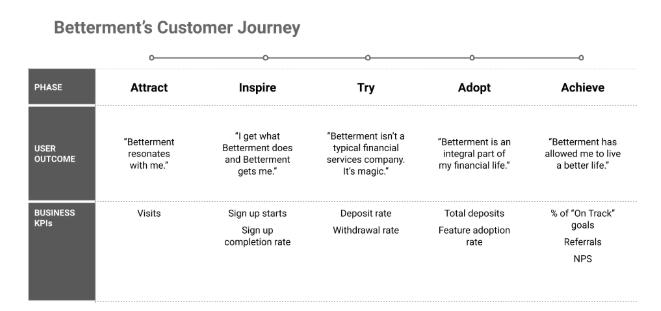 Phases: Betterment is a relationship-based business. If an e-commerce company is a sprint, we're a marathon: instead of concentrating efforts on driving a purchase in a relatively short period of time (then turning around and starting the race all over again), we drive toward a series of interactions that, over time, build trust, and lead to more interactions. A visit leads to a sign up. A sign up leads to an initial deposit. An initial deposit leads to another deposit, or opening a new type of account. Eventually, all those interactions culminate in users achieving financial goals. This can unfold over months, even years. If we don't build the relationship correctly, we won't be successful; it's that simple. Therefore, the five phases in our customer journey intentionally mirror relationship-building milestones: Attract, Inspire, Try, Adopt, Achieve.
User outcomes: The best way to become more customer-centric is to think like the customer. Use words they'd use. Feel the emotions they'd feel. We paired each phase of our journey with a short, theoretical user quote: if we successfully accomplished this milestone in our relationship-building with a user, what might that user say about us to a friend?
KPIs: While we'd love to follow every user around and track what she or he is saying about us, it's impossible to actually do so. We added KPIs, or success metrics, to each phase of our customer journey as a proxy for live conversations. They're the quantitative signals we'd expect to see in the product if we're successfully deepening our relationship with users and accomplishing our desired user outcomes.
Keeping our customer journey lightweight makes it easy to reference in planning discussions. Featuring the voice of the customer activates user empathy. Finally, this type of customer journey map maintains consistency in how we measure success: if we're launching a project designed to impact a certain phase, our measurement plan is essentially built for us, in the form of the agreed-upon, phase-level KPIs. It's a great tool for unlocking user-centric thinking — without being overly prescriptive about the user experience.
About the speaker
Katherine Kornas
Betterment, VP Product
Contributor
Katherine Kornas is VP of Product at Betterment, where she leads growth, mobile, and money movement product teams. Prior to joining Betterment, she was SVP, Product at Havenly, and held product leadership positions at Pandora and Autodesk. Katherine has also worked on product teams at Dictionary.com and GreatSchools. Katherine is a graduate of the University of Michigan and currently lives in New York City
If you liked this post, please use the buttons to the left to share it with a friend or post it on social media. Thank you!