Each year, the Product Awards awards the products and product teams that are achieving excellence in shaping the future of digital innovation. While the majority of the awards are based on the various stages and categories in the product life cycle, it takes a village to change the world. That's why each year we also recognize a handful of standout companies, individuals, and charities that are making a distinctive impact in the world of digital product and technology.
If you missed the 2021 Product Awards, the Rebroadcast is still live on our website. You can watch the entire event here on Products That Count, and it's never too soon to send in your nominations for next year's event. If you have a product, team member, or tool you'd like to see recognized, let us know!
---
Winner of the CX Innovation Award: Bluedot
This time last year, every company was heads down attempting to figure out how to pivot their product strategy to meet the customer where they were at. With customers on lockdown, contactless reigned supreme, and one company in particular accepted the challenges Covid presented with flying colors. We're proud to present the Consumer Experience Innovation Awards to Bluedot. Watch Bluedot Co-Founder Emil Davityan accept this special award and learn more about how contactless is taking product by storm.
"We're really a customer experience company, for consumers who are on the go. We have a high accuracy location platform that does things like off-premise engagement all the way to contactless pick up. Really, it's a b2b platform for product managers to build world class contextual experiences, whether it's contextual gamification or zero contact experiences post COVID.
"Covid is a once in a lifetime change in how businesses operate and how consumers want to engage with those businesses. It doesn't really matter if you're a b2c or a b2b platform enabling those consumer experiences, all of a sudden, the first thing that happened was a real emphasis on zero contact. If you could not do the transaction in a safe sanitary way, then it was a non starter."
---
Product Growth Hero, presented by Heap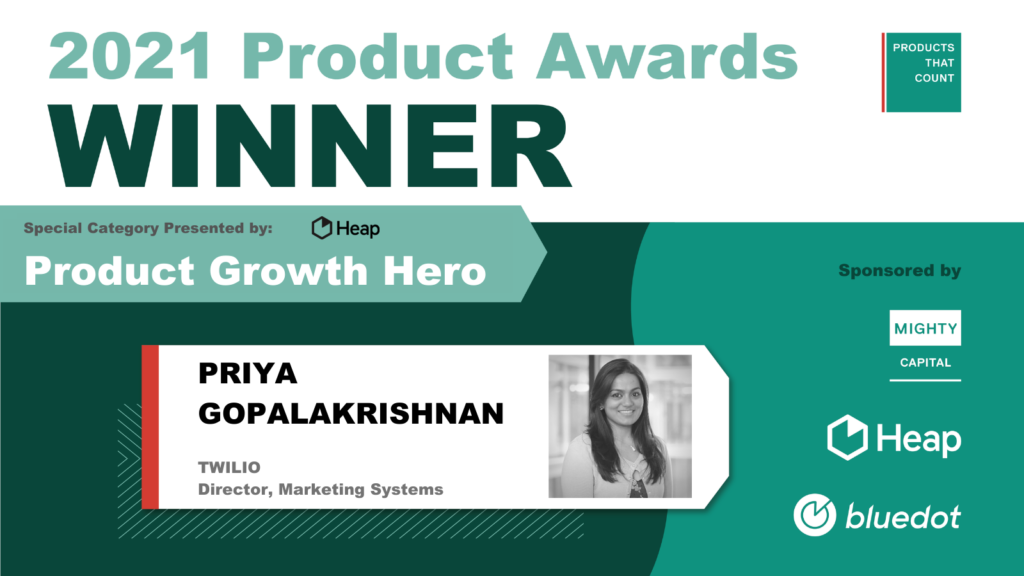 "It's not just product managers who have a product mindset. More and more, as digital experiences pervade every part of the customer journey, not just the 'product', people throughout an organization are thinking and working like product managers."
"Really effective marketing is thinking about the end user experience; when they land on your homepage, learning about your pricing, learning about your different offerings, to actually getting converted into an active user."

That was Heap Co-Founder and former CEO Matin Marvesette expressing why success in product management is not simply dependent on the product team. It touches every part of an organization from engineering, to design, to marketing. This year, Heap shines a spotlight on a Product Marketing leader who "has been instrumental in setting the bar for how to collect and use data across the different systems at Twilio, to strategize and make data-driven decisions."

Congratulations to the winner of this year's Product Growth Hero award presented by Heap, Priya Gopalakrishnan, Director of Marketing Systems at Twilio.
---
Analytics Insights Hero, presented by Heap
"Another part of enabling the entire organization to be data informed and to think like product managers is having a really solid data foundation."
Data permeates every corner of an organization and it takes a true data-minded leader to ensure a company is informed and successful with that data. For this awards, Heap recognizes a leader for "being a data backbone for the entire organization as their director of analytics, very much thinking about not just how to fuel his own team with data, but to fuel the broader team."
Congratulations to the winner of this year's Analytics Insights Hero award presented by Heap, Adam Smith, Director of Web Analytics at 1-800-FLOWERS.
---
Charities Making A Difference
Code.org
Every student in every school should have the opportunity to learn computer science
---
Students Rising Above
Reaching out to underrepresented communities and empowering any student with drive and potential.
---
If you liked this post, please use the buttons to the left to share it with a friend or post it on social media. Thank you!